[Total: 3 Average: 3.7/5]
This post describes a nice Android APP developed with buttons to communicate with another device (a computer or raspberry PI) using websocket.
Websocket is a communication protocol here described: https://en.wikipedia.org/wiki/WebSocket
The complete android APP is here available: https://gitlab.com/iptv-updated/websocket_easy
This APP is using the library OkHttp here described:
https://medium.com/@ssaurel/learn-to-use-websockets-on-android-with-okhttp-ba5f00aea988
The APP layout (created with Android Studio) defines the events necessary to send the messages on the network with websocket. The arrows are used to send the command "up", "down", "left" and "right" and the other buttons are used to provide flags and values to the server. The buttons "Loop" and "Stop-Loop" are used to activate and deactivate a server side thread.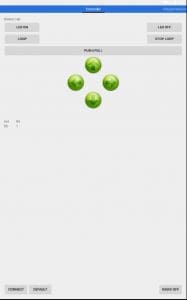 This client can be easily tested with the follow server developed in python:
https://github.com/Pithikos/python-websocket-server
before to execute the server the host name has to be modified to 0.0.0.0 (instead of 127.0.0.1) to allow the communication with all clients in the local network
here the video:
the server can also be located on Raspberry PI: this is possible using python with the library "Tornado".
An easy circuit has been after created on Raspberry PI with LEDs and resistors connected to GIOP. The LEDs get actions based on button pushed on Android APP.
Code to run in Raspberry PY
1

2

3

4

5

6

7

8

9

10

11

12

13

14

15

16

17

18

19

20

21

22

23

24

25

26

27

28

29

30

31

32

33

34

35

36

37

38

39

40

41

42

43

44

45

46

47

48

49

50

51

52

53

54

55

56

57

58

59

60

61

62

63

64

65

66

67

68

69

70

71

72

73

74

75

76

77

78

79

80

81

82

83

84

85

86

87

88

89

90

91

92

93

94

95

96

97

98

99

100

101

102

103

104

105

106

107

108

109

110

111

112

113

114

115

116

117

118

119

120

121

122

123

124

125

126

127

128

129

130

131

132

133

134

135

136

137

138

139

140

141

142

143

144

145

146

147

148

149

150

151

152

153

154

155

156

157

158

159

160

161

162

163

164

165

166

167

168

169

170

171

172

173

174

175

176

177

178

179

180

181

182

183

184

185

186

187

188

189

190

191

192

193

194

195

196

197

198

199

200

201

202

203

204

205

206

207

208

209

210

211

212

213

214

215

216

217

218

219

220

221

222

223

224

225

226

227

228

229

230

231

232

233

234

235

236

237

238

239

240

241

242

243

244

245

246

247

248

249

250

251

252

253

254

255

256

257

258

259

260

261

262

263

264

265

266

267

268

269

270

271

272

273

274

275

276

import

tornado

.

httpserver

GPIO

.

setup

(

GPIO_sw

,

GPIO

.

IN

,

pull_up_down

=

GPIO

.

PUD_DOWN

)

GPIO

.

setup

(

GPIO_out

,

GPIO

.

OUT

)

class

LedHandler

(

tornado

.

websocket

.

WebSocketHandler

)

:

def

check_origin

(

self

,

origin

)

:

print

"Connection opened from: {}"

.

format

(

self

.

request

.

remote_ip

)

self

.

write_message

(

"Connection opened"

)

print

"Connection closed"

def

on_message

(

self

,

message

)

:

currentState

=

GPIO

.

input

(

31

)

print

"Message received {}"

.

format

(

message

)

indexComma

=

message

.

find

(

":"

)

typeVal

=

message

[

1

:

indexComma

]

indexClose

=

message

.

find

(

"}"

)

value

=

message

[

indexComma

+

1

:

indexClose

]

if

(

typeVal

==

"volume"

)

:

cmd

=

subprocess

.

Popen

(

"sudo mpc volume "

+

str

(

value

)

,

shell

=

True

,

stdout

=

subprocess

.

PIPE

)

stations

=

cmd

.

stdout

.

readlines

(

)

elif

(

typeVal

==

"channel"

)

:

cmd

=

subprocess

.

Popen

(

"sudo mpc play "

+

str

(

value

)

,

shell

=

True

,

stdout

=

subprocess

.

PIPE

)

stations

=

cmd

.

stdout

.

readlines

(

)

elif

(

typeVal

==

"radio"

)

:

cmd

=

subprocess

.

Popen

(

"sudo mpc clear "

,

shell

=

True

,

stdout

=

subprocess

.

PIPE

)

stations

=

cmd

.

stdout

.

readlines

(

)

cmd

=

subprocess

.

Popen

(

"sudo mpc add "

+

str

(

value

)

,

shell

=

True

,

stdout

=

subprocess

.

PIPE

)

stations

=

cmd

.

stdout

.

readlines

(

)

cmd

=

subprocess

.

Popen

(

"sudo mpc play "

,

shell

=

True

,

stdout

=

subprocess

.

PIPE

)

stations

=

cmd

.

stdout

.

readlines

(

)

channelAddress

=

str

(

value

)

cmd

=

subprocess

.

Popen

(

"sudo /home/pi/pythonexample/playlist.sh"

,

shell

=

True

,

stdout

=

subprocess

.

PIPE

)

stations

=

cmd

.

stdout

.

readlines

(

)

cmd

=

subprocess

.

Popen

(

"sudo mpc play "

+

str

(

channelValue

)

,

shell

=

True

,

stdout

=

subprocess

.

PIPE

)

stations

=

cmd

.

stdout

.

readlines

(

)

self

.

write_message

(

"LED is already OFF"

)

elif

message

==

"ledoff"

:

if

currentState

==

False

:

self

.

write_message

(

"LED is already OFF"

)

elif

message

==

"stoploop"

:

our_thread

=

threading

.

Thread

(

target

=

self

.

loop

)

elif

message

==

"ledlefton"

:

# channelValue = channelValue - 1

# cmd = subprocess.Popen("sudo mpc play " + str(channelValue), shell=True,stdout=subprocess.PIPE)

# stations = cmd.stdout.readlines()

elif

message

==

"ledleftoff"

:

elif

message

==

"ledrighton"

:

# channelValue = channelValue + 1

# cmd = subprocess.Popen("sudo mpc play " + str(channelValue), shell=True,stdout=subprocess.PIPE)

# stations = cmd.stdout.readlines()

elif

message

==

"ledrightoff"

:

elif

message

==

"ledupon"

:

#if volumeLevel < 100: # volumeLevel = volumeLevel +10 # cmd = subprocess.Popen("sudo mpc volume " + str(volumeLevel), shell=True,stdout=subprocess.PIPE) # stations = cmd.stdout.readlines() elif message == "ledupoff": GPIO.output(33, False) elif message == "leddownon": GPIO.output(29, True) GPIO.output(33, False) #if volumeLevel > 0:

# volumeLevel = volumeLevel-5

# cmd = subprocess.Popen("sudo mpc volume " + str(volumeLevel), shell=True,stdout=subprocess.PIPE)

# stations = cmd.stdout.readlines()

elif

message

==

"leddownoff"

:

if

message

==

"radiooff"

and

run

==

1

:

GPIO

.

output

(

GPIO_out

,

False

)

cmd

=

subprocess

.

Popen

(

"sudo mpc stop"

,

shell

=

True

,

stdout

=

subprocess

.

PIPE

)

stations

=

cmd

.

stdout

.

readlines

(

)

elif

message

==

"radioon"

and

run

==

0

:

GPIO

.

output

(

GPIO_out

,

True

)

cmd

=

subprocess

.

Popen

(

"sudo mpc volume "

+

str

(

volumeLevel

)

,

shell

=

True

,

stdout

=

subprocess

.

PIPE

)

stations

=

cmd

.

stdout

.

readlines

(

)

cmd

=

subprocess

.

Popen

(

"sudo mpc play "

+

str

(

channelValue

)

,

shell

=

True

,

stdout

=

subprocess

.

PIPE

)

stations

=

cmd

.

stdout

.

readlines

(

)

#our_thread = threading.Thread(target=socketloop)

tornado

.

options

.

parse_command_line

(

)

app

=

tornado

.

web

.

Application

(

handlers

=

[

(

r

"/"

,

LedHandler

)

]

)

server

=

tornado

.

httpserver

.

HTTPServer

(

app

)

io_loop

=

tornado

.

ioloop

.

IOLoop

.

instance

(

)

print

(

"server already on"

)

if

__name__

==

"__main__"

:

GPIO

.

output

(

GPIO_out

,

True

)

GPIO

.

output

(

GPIO_out

,

False

)

#our_thread = threading.Thread(target=socketloop)

#print GPIO.input(GPIO_sw)

if

GPIO

.

input

(

GPIO_sw

)

==

True

and

run

==

0

:

GPIO

.

output

(

GPIO_out

,

True

)

cmd

=

subprocess

.

Popen

(

"sudo /home/pi/pythonexample/playlist.sh"

,

shell

=

True

,

stdout

=

subprocess

.

PIPE

)

stations

=

cmd

.

stdout

.

readlines

(

)

cmd

=

subprocess

.

Popen

(

"sudo mpc volume "

+

str

(

volumeLevel

)

,

shell

=

True

,

stdout

=

subprocess

.

PIPE

)

stations

=

cmd

.

stdout

.

readlines

(

)

if

channelAddress

&

lt

;

&

gt

;

""

:

cmd

=

subprocess

.

Popen

(

"sudo mpc clear "

,

shell

=

True

,

stdout

=

subprocess

.

PIPE

)

stations

=

cmd

.

stdout

.

readlines

(

)

cmd

=

subprocess

.

Popen

(

"sudo mpc add "

+

channelAddress

,

shell

=

True

,

stdout

=

subprocess

.

PIPE

)

stations

=

cmd

.

stdout

.

readlines

(

)

cmd

=

subprocess

.

Popen

(

"sudo mpc play"

,

shell

=

True

,

stdout

=

subprocess

.

PIPE

)

stations

=

cmd

.

stdout

.

readlines

(

)

cmd

=

subprocess

.

Popen

(

"sudo mpc play "

+

str

(

channelValue

)

,

shell

=

True

,

stdout

=

subprocess

.

PIPE

)

stations

=

cmd

.

stdout

.

readlines

(

)

print

"Caught threadWebsocket. Thread was already off"

our_thread

=

threading

.

Thread

(

target

=

socketloop

)

while

GPIO

.

input

(

GPIO_sw

)

==

True

:

if

GPIO

.

input

(

GPIO_sw

)

==

True

and

run

==

1

:

GPIO

.

output

(

GPIO_out

,

False

)

cmd

=

subprocess

.

Popen

(

"sudo mpc stop"

,

shell

=

True

,

stdout

=

subprocess

.

PIPE

)

stations

=

cmd

.

stdout

.

readlines

(

)

#cmd = subprocess.Popen("sudo ./findkill.sh", shell=True,stdout=subprocess.PIPE)

#stations = cmd.stdout.readlines()

#cmd = subprocess.Popen("chmod 777 ./killall.sh", shell=True,stdout=subprocess.PIPE)

#stations = cmd.stdout.readlines()

#cmd = subprocess.Popen("./killall.sh", shell=True,stdout=subprocess.PIPE)

#stations = cmd.stdout.readlines()

#cmd = subprocess.Popen("rm -f ./killall.sh", shell=True,stdout=subprocess.PIPE)

#stations = cmd.stdout.readlines()

while

GPIO

.

input

(

GPIO_sw

)

==

True

:

except

KeyboardInterrupt

: